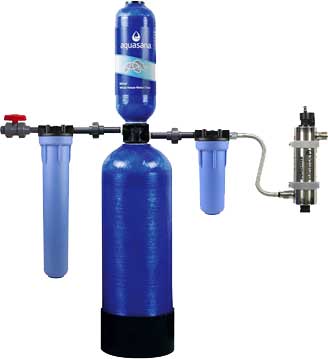 If you are looking for the best well water filtration system at an affordable price look no further than the Aquasana 500,000 gallon Rhino filter for home use. With the potential for bacteria and local pollutants to enter your water supply the Aquasana system is great insurance to protect you and your family from these very real health threats.
The Rhino is specifically designed for private wells and includes a media upgrade from the standard Rhino that is used for municipal water supplies. The system also includes a .35 micron post filter as well as a UV filter to deal with any type of well water problems.
With the Aquasana whole house well filter system you will have clean water to drink, bathe and shower in, as well as supplying filtered water to every water using appliance in your home such as the washing machine and dishwasher. The best part is you can rest easy knowing you made a wise decision regarding your homes water.

500,000 Gallon Rhino Well Water Filter Product Specifications:
Height : 46″
Length with install kit: 27″
Diameter: 8″
Weight: 40 lbs.
Rated flow rate: 7 gallons per minute
Capacity of filter: 300,000 gallons
Aquasana Rhino Well Water Filtration System Performance
You can have your filtration system custom designed to meet your well water needs and problems. No matter what your need is we have you covered. So if you need a media upgrade in the main tanks, a UV filter to take care of bacteria and viruses, or and iron and sulphur filter your well water filtration system will be constructed with everything needed to improve your well's water quality and that your loved ones receive clean healthy water from ever tap in your home. We have the capabilities to custom build systems to your specifications no matter what size home or water problems you may have.
Our well water filtration systems can be custom-made to deal with the following issues:
Reduces 97% of chlorine, taste and well water smells
Reduces elevated levels of hydrogen sulfide and well water smells
Reduces excess levels of iron that cause rust and iron stains
Removes dirt and microscopic particles with the 5 micron pre-filter
No drainage, back flushing or waste water
Give us a call now at 1-866-523-4099 to set up our comprehensive well water testing service to find out what is in your well's water. Or call us to find out more about how the Aquasana Rhino whole house well water filtration system can solve your homes well water problems today.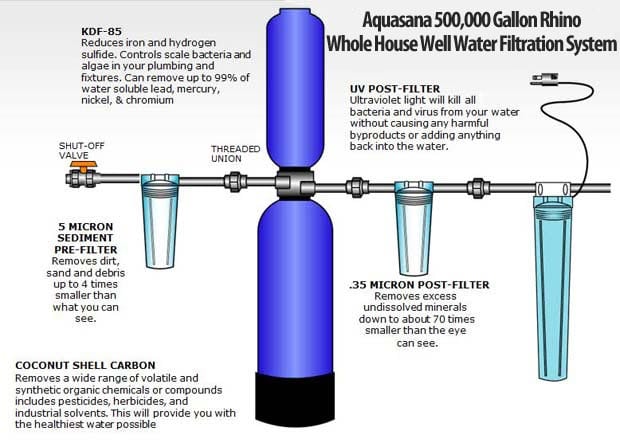 ---